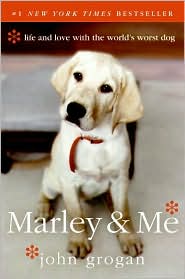 I'm a crazy dog lady. In fact, I sometimes prefer the company of canines over certain people.


So when I received
Marley & Me
for Christmas about 3 years ago, I fell in love. It doesn't matter if you have a pooch, cat, fish, bird or like or hate dogs; the story will make you laugh out loud and cry all over the pages, I promise. Imagine my complete euphoria when I saw the
preview for the movie
. Once I get over the images of the famous actors ("What's Jennifer Aniston doing in normal clothes and walking a yellow lab?") I'm hoping the movie is as adorable as the book.