........as in swing arm lamps. Heh.
I've been intrigued by the idea of swing arm lamps. To some, they're reminiscent of hotel rooms. To me, they're functional and fitting for what we love to do every night in bed. Read. Why does everyone keep snickering?


I really love the style of them. Mr. FC was skeptical but the functionality factor won him over. I've been giving
this one
and
these
the daily side-eye. Then one Saturday morning, as I was exercising strolling down the aisles of my local Lowe's, I saw
these
(also available in
oil-rubbed bronze
).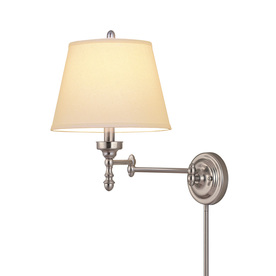 As with some of the pricier versions, these lamps are plug-ins so no re-wiring behind drywall necessary. The price was right and the overall quality is impressive (substantial weight to the metal lamp base, not that painted plastic look). You beauties are coming home with FC. (Warning: the installation instructions were horrible but the whole setup is easy to figure out.)
Aesthetically, I do think our old lamps were prettier but I haven't regretted swapping them out for these wall-mounted swing arm versions. I love our new lamps that much more; they free up valuable surface space on our nightstands & can be angled towards our reading material in countless ways. Perfection.
They came with traditional linen shades, but we still prefer the linen drum shades from our old lamps, so it was Mr. FC's idea to switch them. I think he's absorbed my décor sensibilities. That is some serious osmosis shiznit.
Notice that I've mixed gold (wall decal) with bronze (nailheads) with brushed nickel (lamps) with chrome (julep vases).
It's like this wall is having a metal identity crisis.
I also know we have a duvet for the down comforter somewhere but I've been too lazy to put it back on.
It's how we do it around here.
I know swing arm lamps are certainly not everyone's cup of tea but we're absolutely loving ours!
Are you into swinging.........lamps, that is?

See more of our bedroom transformation here!