.................with our next little big "project".
We are so stoked about our little peanut.
Words can't fully describe our emotions but they're somewhere in the realm of euphoric.
My fellow design lovers, I will try my best to
not
turn this into a 24-hr baby blog. To each their own (there are plenty of bloggers out there fulfilling that niche) but it's just not me--famous last words, huh? Perhaps I'm speaking too soon, but I'll try to not infiltrate this blog with weekly photos of my naked expanding belly and/or tales of dirty diapers. After all, just because we might find our little peanut cute, doesn't mean everyone else will.......bwahaha!
So, it will be business as usual around here. That being said, I hope you'll indulge me if I
do
post something baby-related every once in a while! I'd like to somehow strike a balance between design-related posts & life/baby posts. Meanwhile, I hope we can convince our photographer friend Ben to do an awkward photo shoot like
this one
with us.
Awesome
.

Our wonderful family & friends' joy have us marveling. Not only have they bestowed their wholehearted support/wisdom upon us, they've also made us laugh during this journey into unknown territory (for us).
This e-card, from my friend Jen, made me spew my non-alcoholic beverage all over the 'puter screen (
love
it
):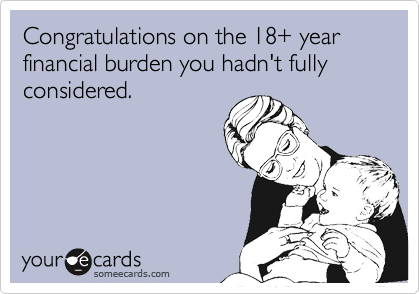 I can also hear the collective sigh of relief over how, now, I won't be able to make any wine-drinking jokes.
At least for a while.

It's like we all win, really.